What is the Dog House-Training Ultimate Guide?
The Ultimate House Training Guide is a comprehensive, downloadable manual that any dog owner will love. It provides the solutions to what is probably the most frustrating and challenging problem that all dog owners face: house training. It's a facet of dog ownership that has been universally dreaded and widely misunderstood.

There are countless theories on the subject; some are not sufficiently helpful and others are just plainly incorrect. Almost every place where you look for information on the topic, whether it's online, at the library or through other dog owners, you'll find a maelstrom of conflicting arguments.
What Sets This Dog House-Training Guide Apart from Others?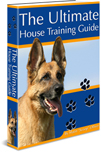 It was after many frustrating and confounding hours spent sifting through the veritable minefield of conflicting information on how to housetrain a dog that I stumbled upon Martin Olliver's "The Ultimate Dog House Training Guide" eBook. Martin is a New-Zealand-based author, animal behaviorist/psychologist and has a wealth of experience in working with dogs.
As the title indicates, the Guide covers all aspects of house training. The style of writing is both educational and friendly. One gets the impression of being involved in a conversation with a well-rounded canine behaviorist. An added benefit is that you can scroll back at any given time without having to ask him to repeat himself!
We've seen that the tone of the manual is informative and friendly. Above all, the manual is filled with helpful, common-sense information. There are no dodgy marketing ploys, deceitful recommendations or pointless FAQ sessions. You don't have to be a canine expert to see that the author knows what he's talking about (by the way, he's also a vet).
What's Included in the Dog House-Training Ultimate Guide?
The Guide starts with a narrow section on the basic requirements (patience, perseverance, consistency and common sense). You'll welcome the confidence-boosting advice on how to progress calmly through the training process. After that, it's down to the meat and potatoes: the fundamentals of how to house-train your dog.
There are three recommended methods for house-training: crate-training, paper-training and the "direct" method. There's a detailed section on each of these methods for puppies and for older dogs.
Next, you will discover how to deal with common house-training problems. This section is particularly useful. The Guide covers a huge variety of issues, from marking territory to poop-eating. In addition to that, each issue is accompanied by a case study; this will help you enormously to put the information into perspective.
Health-Related Problems
Health-related problems are covered in some detail. You'll discover how to overcome congenital problems (issues your dog was born with) and how to deal with ailments that develop later in life. You'll also learn how to remedy other problems that are related to house-training, such as improper outdoor elimination and lawn-burn from dog urination.
Top 10 Tips for Problem-Free House Training
The final section of the Guide is essentially a rundown of the most necessary and useful practical tips, attitude adjustments and gold nuggets of training information which will come in most helpful in training your dog.
The Dog House-Training Ultimate Guide might sound formidable but it's actually very user-friendly. It's not only packed with sound, practical advice; the layout makes it so easy to understand. The tone is light and easy, without confusing terminology. The Guide advances from step to step in a logical manner, with helpful "how-to" illustrations to guide you.
Need More Help? Free, Personalized Consultations
One of the best aspects of this Guide is that, should you need any additional help with house-training your dog, all you need to do is send an e-mail to the team at Kingdom of Pets. They'll give you an individualized, professional opinion on the best way to overcome the problem. You'll soon know the tips and strategies you should implement to get your dog's house-training under control.
Final Thoughts
Most people would regard house-training a dog as a daunting task. However, Martin Olliver's depth of knowledge is very reassuring. He certainly knows how to spell things out for even the most unseasoned dog owner. Besides the main sections mentioned above, there are many extras included to make the training process as smooth and effective as possible: check-lists, dos and don'ts, how to suitably deal with "accidents" and more.
When a Guide delivers information so detailed, reliable and easy to absorb as the Ultimate House Training Guide, there's little chance to go wrong.
Order the Ultimate House-Training Guide here
Photo by Mike Burke on Unsplash