Discover How to Ease Your Dog's Separation Anxiety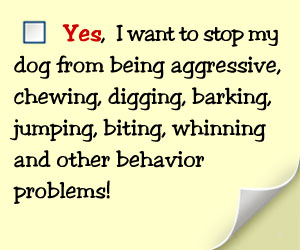 Separation anxiety is a very common problem amongst dogs. It's a behavior disorder that is brought on by a dog's being separated or isolated from its owner. It can become apparent through symptoms such as whining, barking, destroying items in the home, scratching doors, walls or floors, chewing table legs, attempting to escape from a room or crate etc. However, you can learn how to ease your dog's separation anxiety so he'll not be lonely while you're away.
Because dogs are social animals, they need companionship and social interaction to keep them contented and happy. Dogs intensely dislike being left alone for long periods of time. Some are more sensitive in this regard than others – they are the ones most likely to develop separation anxiety.
Factors Contributing to Separation Anxiety
There are a number of factors that can contribute to the condition:
Genetic predisposition: Some breeds are more prone to feelings of insecurity and anxiety. Included amongst these are German Shepherds, Weimaraners, Airedales and Springer Spaniels. It's worth the time and effort to consider this before making a decision on which breed to acquire, especially if you foresee being away from home for extended periods.
Dogs from shelters: A good percentage of dogs from shelters develop separation anxiety. Many of them have experienced considerable stress in their lives and have been abandoned by their previous owners. They don't have much reason to trust that a new owner won't perform in a similar fashion.
Dogs that have too early been separated from their mothers and siblings are especially prone to separation anxiety. A good example of this is puppies from pet stores. They are typically removed from their mothers well before the youngest possible age (which is eight weeks), then are confined to a small space in a pet store for anything up to several weeks.
This early detachment, combined with the lack of affection and exercise while in the pet store, is psychologically damaging for a dog.
Neglect: This is the primary cause of separation anxiety for dogs. If you're much more absent than present in your dog's life, separation anxiety is pretty much a certainty. Your dog needs your attention, companionship and affection in order to be contented and happy.
Symptoms of Separation Anxiety
Your dog will learn to tell when you're preparing to leave – the jingling of keys, seeing you putting on your going-out clothes etc. – and will start to become anxious. He may follow you around the house, whining, crying and trembling. Some dogs are even known to become aggressive in an attempt to keep their owners from leaving.
Once you have left, the distressed behavior will rapidly intensify and usually peaks within thirty minutes. He may dig and scratch at doors and windows (in an attempt to escape and reunite himself with you), bark excessively, chew inappropriate items and even deposit his waste inside the house. In extreme cases, he might self-mutilate by pulling out fur or chewing his skin until it's raw. He could also engage in obsessive-compulsive behaviors, such as tail-chasing and spinning.
On your arrival back home, he will hop and bounce around you in a frenzy of excitement for a longer time than a well-balanced dog would. Some owners misunderstand the meaning behind this extended greeting (i.e., that it signifies the presence of a psychological disorder). They then erroneously encourage the dog to become more and more agitated when they return home. If you're making this mistake with your dog, please stop!
Because it seems harmless and he's so happy to see you, it's very tempting to return his affection and attention in equal measure. In reality, however, you'll just be endorsing his belief that your return is the highlight of the day. Then, when it's time for you to leave again, his now-inflated joy is under threat and he'll become even more dejected when you close that door behind you.
The good news is, there are steps you can take to decrease your dog's tendency towards separation anxiety. Here are some things you should and should not do:
What to do:
Wear him out with plenty of exercise. Really exercise the heck out of him. The longer you expect to be away, the more exercise he should get before your departure. If he's not going to see you (the person he most cares about) for several hours, a vigorous, 20-minute walk should be considered the absolute minimum. Longer would be better.
Give him something nice to chew. All dogs are predisposed to chewing. Why not play on that propensity? It will be an appealing alternative to whining, pining and pacing. Get a few marrowbones from your friendly butcher and bake them in a hot oven for 20 minutes so they become nice and crunchy. Give him one about 15 minutes before you leave. It will keep him happily occupied and will help to shield your departure.
Before you leave, put on your radio: a classical music station would be ideal but any station where there will be a lot of talking will also do just fine. Keep the volume fairly low; it should give him the feeling that he has company and should be quite calming.
If you can set him up with a view, so much the better. Being able to watch the world going by would be the next best thing to being out and about in it.
Acclimatize him to your departure. While taking things at a leisurely pace, practice preparing to go: put on your hat or coat, jingle your keys about and open the door. Then, instead of leaving, sit back down. Don't go anywhere. Do this until he no longer reacts. When there's no reaction, lavish praise on him for his bravery and give him a treat.
Next, practice actually walking out the door but return immediately. Again repeat this until there's no reaction. Work up gradually until you're able to leave the house without any stress from your dog.
What NOT to do:
Behave overly sympathetic when he cries. It might sound very uncaring but trying to comfort and soothe your dog by petting him and fawning over him is one of the worst things you can do. Essentially, it would be confirming his concern. Don't let him see that you feel sorry for him; don't ever say, "Good boy, it's OK" when he's upset!
These have been some useful tips on how to ease your dog's separation anxiety. If you'd like to have a more detailed look at how to deal with this sensitive problem, you couldn't do better than to check out Secrets to Dog Training. It's a great discovery tool for anyone who wants to effectively deal with his or her dog's behavior problems. All the common behavioral faults are dealt with in great detail. There's also a great section on obedience training and tricks. You can click the link below to visit the Secrets to Dog Training site: